Rewarding Superstars
A Conversation with Ann Brandl VP of Operations at LAN
A Life Ambulance Network Spotlight
We sat down for a conversation with Ann Brandl, Vice President of Operations at Life Ambulance Network. We talked about wage increases and lessons learned from an incredible career in EMS and much more!
Hi Ann, let's start with the big news that LifeLine recently posted, the Pay-Raise in IL:
Sure, we were looking to reward our superstars and employees for their hard work and also connect with EMS personnel in a way that resonates with where they're at in their careers.
"..We put the control in the employees hands… they can be earning amongst the highest in town."
When someone is just starting a career, the biggest question on their mind is the pay per hour. Though ideally people would value a company as a full package, at that stage of a career there's typically less concern about the benefits or company culture. And even though our LAN package has for a long time been at the highest level in the industry, we needed to make sure that the pay was up there as well. 
With the new raise and bonus, we put the control in the employees hands. If they show up and do their job, they can be earning amongst the highest in town.
What are some of the considerations that go into a decision like raising wages?
The main component is mindset, we see this as an investment. If our employees are treated the best, using the best equipment, earning more and are happy about their work, we're certain we'll be able to hire more people, take more calls and continue to grow.
In your career you've worked with multiple ambulance companies and municipalities, is there anything about LAN that stands out?
What excites me the most is the growth potential and ownership here and that the company truly is employee driven. This is by far the most exciting thing that drew me to the job – it's amazing how much effort and decision making goes towards benefiting employees at each LAN location, as is best suited for them. 
In EMS there will always be ambulances with wheels on them that are primarily taking patients from point A to B. You may get held over, you may have a day that's rough, but at LAN you know we have your back. Our most valuable assets are our employees and taking care of them is our #1 priority.
What are some career tips you would give to someone looking for a career in EMS?
In EMS (and really any job) help out often and always learn as much as you can – make the most of seminars or training available to you and just keep learning. For example, an EMT learning about billing will help them be an even better patient advocate because knowing the laws and details makes a difference. 
Always be gracious…Everyone has a story and you're already spending time with them, even if they're just transfers, be kind and listen – you'll learn the world….
– Ann Brandl
VP of Operations Life Ambulance Network
How did you end up with a career in EMS?
Ever since I was 11 years old, I knew I wanted to work in EMS and there was nothing that was going to stop me. At the time, though, women were rarely seen in EMS positions and my parents preferred that I get a degree, so I attended college and began working at Caremark in hospital billing and collections. Before long, I decided to enroll in EMT classes – only notifying my family once I'd graduated. I remember my brother encouraging me to pursue my dreams and have no regrets; he even offered to help me pay for paramedic school.
Rumor has it you graduated at the top of your class from Paramedic school?
I did… and I maintain my license and still run calls. It's the best part of the job, keeping me grounded and connected to the employees.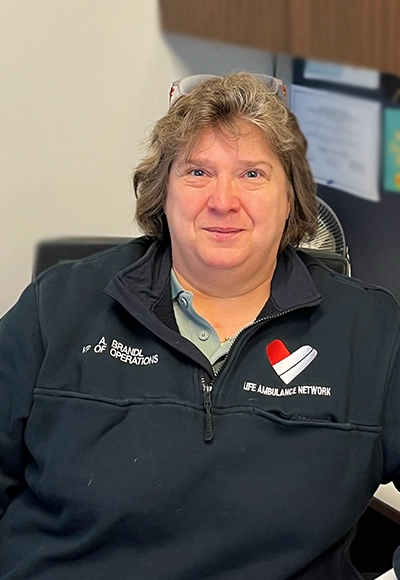 Has the landscape for women in EMS changed since you began your career?
Yes, it's wonderful to see so many women working as medics and being promoted to leadership roles in EMS. Over the years, I've been the only female in a room of managers from 20 different counties or departments…there's always room to grow though I don't see any reason for it to slow down!
Do you have any pursuits beyond EMS?
Yes, I mentor people in real estate, I travel to conferences to speak publicly about it. 
I had always wanted to be in real estate and began buying and renting houses about 20 years ago. I had gone to a seminar and learned a great way to buy, and now I mentor others and share how they can buy and sell.
Wow, that's awesome!
In closing, what is something you wish you would have known about EMS when you first started?
Always be gracious.  I had a 104 year old patient on a call and had a great conversation with them. Everyone has a story and you're already spending time with them, even if they're just transfers, be kind and listen – you'll learn the world…
…Oh and Document as best as you can! Your run reports are SO important – just do it right the first time. You'll be grateful later.