Welcome to our careers section, where we showcase the diverse job opportunities at LifeLine Ambulance in Chicago, IL. We are actively expanding our team and seeking passionate, dedicated individuals for various roles, including EMT-Basic, Paramedic, Event EMT Paramedic, and Advanced EMT. Regardless of your experience level or career aspirations, we have positions for everyone, from entry-level positions for those just beginning their EMS journey to roles suitable for seasoned professionals. Discover more about these positions below, and take the first step towards a rewarding career in emergency medical services today.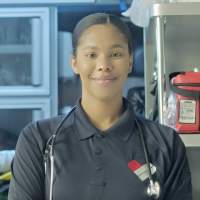 Emergency Medical Technician (EMT-B) Basic Job Opportunities
Seeking an EMT job in the city of Chicago? LifeLine Ambulance Illinois is looking to expand our team of EMTs to cater to the increasing demand for skilled emergency medical technicians. LifeLine offers career advancement opportunities and a supportive work environment, making it one of the top choices for those seeking EMT jobs in Chicago, IL.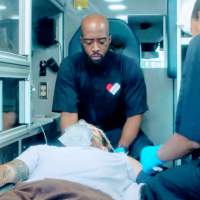 Emergency Medical Technician (EMT-P) Paramedic Job Opportunities
For those trained at a higher level, we offer multiple Paramedic jobs in Chicago, IL due to our rapidly growing call volume. As a paramedic with LifeLine, you'll be responding to a variety of calls, providing patient care and performing life-saving procedures. This full-time employment provides opportunities for day shift work, competitive pay, and additional benefits.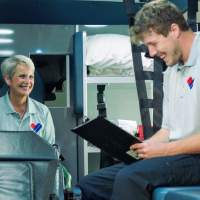 Advanced Emergency Medical Technician (AEMT) Job Opportunities
We occasionally list job opportunities for Advanced Emergency Medical Technicians (AEMT) positions with LifeLine Ambulance Chicago. Our AEMTs are integral members of our team, providing critical care during high-pressure emergency situations. Be sure to check back regularly or reach out to our EMS career advisers for the latest opportunities.
Now Hiring EMT Paramedics | Full or Part-Time Special Events Team Job Openings
Looking for a job as an Event EMT Paramedic in Chicago, Illinois? LifeLine Ambulance Illinois is now hiring Paramedics to join our Special Events Team! The role includes providing on-site medical care to large crowds at various events. Our Paramedics must be able to maintain their composure in extremely stressful situations, assess medical situations and perform emergency lifesaving procedures. Full time & part time employment opportunities are available for day shift and both offer competitive pay, on-site continuing education, and, when needed, support from EMS career advisers. Take the first step  and don't miss this chance to advance your career in emergency medical services. Check out our Chicago Event EMT job listings and apply today.
Full Time & Part Time Employment for EMTs in Chicago
LifeLine Ambulance, a part of Life Ambulance Network, is actively recruiting for both full-time and part-time positions, available specifically for EMTs and Paramedics in Chicago, IL. Our opportunities cater to everyone, from individuals seeking an entry point into an EMS career to seasoned professionals in the field. A wide array of roles await that can be tailored to suit your career objectives. Visit our EMT job section (above) and discover your next career step today.
Illinois EMT & Paramedic Jobs FAQs
How to Become a Licensed EMT or Paramedic in Illinois
In order to get licensed and certified as an EMT or paramedic in IL, you're going to need to follow the standards set by the Illinois Department of Public Health (IDPH). The 1st step in this process involves successfully completing an EMT or paramedic training program that has received
official approval from the IDPH
. 2nd, you'll have to pass the required exams and apply for licensing through the IDPH. Chicago and other cities in IL offer various job opportunities for licensed EMTs and paramedics, so obtaining your license in IL is essential if you want to work in this field. Start your journey to a rewarding paramedic or EMT job today!
Can paramedics make six figures?
While it is rare, paramedics with higher additional qualifications and experience in specific positions can earn a six-figure income. It is not the norm and typically requires specialized roles or circumstances. Some roles that may allow a paramedic to make six figures include roles like critical care flight paramedics, where the demands and risks associated with aero-medical evacuations justify higher compensation, like in California where the median is near 6-figures at $95,703. In general, paramedics serving in areas with higher cost of living can potentially reach this level of earnings. Some other ways to earn 6 figures as a paramedic are working overtime or taking on managerial, supervisory or educational roles within EMS. It's important to note that these scenarios are more the exception than the rule.
How much does paramedic services in Illinois pay?
How much a paramedic earns in Illinois depends on a number of factors; 
Level of experience

Educational background

Specific role

Location in Illinois
These numbers can fluctuate and might even differ a bit depending on where you're getting your information. To give you a ballpark figure, salary.com reports that the median yearly income for an Illinois Paramedic is around $48,996. But, if we look at the data from the Bureau of Labor Statistics, we see that paramedics in the U.S. on average make about $53,560 a year, while those in Illinois average about $57,420. That's a discrepancy of nearly 18%. Even though the middle-of-the-road annual income for paramedics in Illinois is around $48,996, there are certainly some who make closer to the state's average of $57,420, which even beats the national average!