The Family That Rides Together
A Life Ambulance Network Spotlight
"Here's looking at you, kid."
…The iconic line brought to life by Humphrey Bogart as he bids farewell in the all-time classic film Casablanca. Yet in our modern tale of family, ambition, success and dreams these words will take on a whole new meaning.  
Rafael Popa was a medical student with dreams of being a doctor when he left his studies to support his young family upon the birth of his eldest daughter Lenny. In time, the Popa family made the difficult decision to depart their home in the coastal city of La Romana, Dominican Republic with the hopes of greater opportunities in Florida.  
"It started with a fathers dream, a brother's call and that brother's daughter's decisiveness…."
One day Rafael's brother living in Detroit, called him with a great opportunity for a house he had found that would be great for raising his growing family. The Popa family, now with another daughter, Merarys, moved to Detroit, setting in motion a series of events that would only be realized some 20 years later. 
Fast Forward to spring of 2020, in the midst of a global pandemic, Lenny Popa, now a freshman at Wayne State University, texts her cousin and close friend Rachel Popa (Daughter to Rafael's brother), that she's looking for schools or jobs for something to do that summer. After further conversation Rachel, who like Lenny has plans to become a trauma surgeon and is the more impulsive of the two,  decided to apply to EMT training classes for her… and Lenny! "If i'm doing this we're doing it together" she says as she describes letting Lenny know. It quickly paid off as Rachel says "If not for Lenny I wouldn't have completed the class, Lenny kept me focused." Shortly after, upon graduation both Rachel and Lenny began working at LifeLine Ambulance in Lincoln Park, MI. 
Working as an EMT during the height of a global pandemic can be daunting, yet when Lenny would come home from a day on shift and share her experiences in the field, she found a captive audience in her father Rafael, who relished hearing about her day. Though medical school was years bygone Rafael's dream of a career in medicine and helping others had never departed him. Lenny noticed her dad's enthusiasm for her work and encouraged him to enroll in EMT training classes. Before his registry exams Rafael studied with Lenny and Rachel and with their encouragement he passed all his tests on his first try! "I was amazed at how much I still remembered from my years in medical school, it felt like a giant puzzle coming together". A puzzle that would soon add another key piece. 
The most beautiful thing about family is that they really know  and understand you, even more so when you all work in the same field!
– Rachel Popa
There's an unwritten rule amongst dads and daughters that applies to carpool lines and workplaces. Space. So upon graduation Rafael set out to work at a different ambulance company in the Detroit area, with the hopes of giving Lenny her respected space at LifeLine. Though Rafael realized that the environment there was not what he was looking for and he didn't feel that he would be welcome there. After much consideration he walked into LifeLine ambulance and described his first meeting with LifeLine MI Director of Operations Aaron Carignan. "He told me that if I ever have had a bad boss, that's the guy he doesn't want to be… And to be honest Aaron is one of the best people I've ever worked with! The whole management team is so supportive, they work with you and make sure everyone feels appreciated."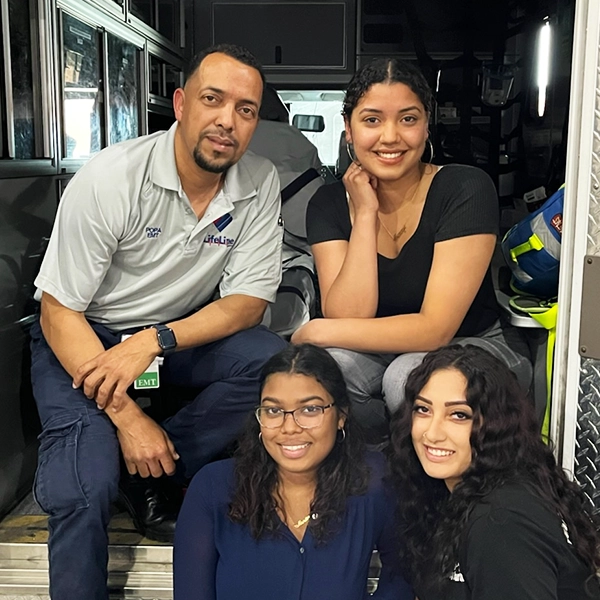 With 3 of the extended Popa family now working at LifeLine, Rachel and Lenny still laugh when people confuse them for one another though mostly they tell about the benefit of having each other to confide in. "The most beautiful thing about family is that they really know  and understand you, even more so when you all work in the same field" Rachel says, describing how they lean on each other for support after a difficult shift or call.  In time they would all end up running shifts together and their familial care extended beyond their family to others. Rafael recalls how one patient even got emotional when she realized that she was being cared for by a literal family – father and daughter EMS crew. 
And then there were 4, the final piece of the puzzle. Soon after Rafael joined LifeLine, his younger daughter Merarys who is currently on the pre-med track at University of Michigan, inspired by her dad and sister, would apply to EMT training classes at LifeLine EMS Academy in MI. "Walking into LifeLine and meeting Kris (Director of Human Resources Kristen Macgregor) and the other staff, they're just the nicest people and were super flexible with my schedule so that I could stay in school!" She says, "Being an EMT, a first-responder is awesome, it will give me great experience and knowledge for my future career." 
It started with a fathers dream, a brother's call and that brother's daughter's decisiveness. 
At Life Ambulance Network, we're honored to be able to call such incredible people Rafael, Rachel, Lenny and soon to be Merarys part of our EMS family, and we know this is just the beginning. We look forward to seeing them grow within and beyond LifeLine MI. Rafael is now working towards becoming a paramedic. Lenny, who is currently majoring in public health with a minor in nutrition at Wayne State University, like her cousin Rachel, aims to be a trauma surgeon. 
Merarys, who begins EMT classes at LifeLine MI EMS academy in May, aims to use her medical degree (currently pre-med at U-M) to build clinics in underdeveloped countries, providing consistent care to patients who need it most. When asked where she hopes to start, "I have a cousin in the Dominican Republic" she says, "who has Epilepsy and has to commute long distances just for basic care, so yah, DR would be a good place to start…" a new beginning, where it all began. 
Here's looking at you, kids.