To Be The First Employee-Driven EMS Company.
Introducing LAN's new "People" Division!
Often it's just a brief moment, a word or greeting, that differentiates between stranger and friend. In recounting such moments, Shalom Bergovoy (Chief Development Officer at Life Ambulance Network) excitedly describes an encounter last summer, while on his way out of the station, on a whim he approached a pair of LifeLine EMT's returning from the road. "What started as a passing 'hey, how was your day?' blossomed into a conversation about nursing school (where one of the EMT's was enrolled as a student), future career goals and answering questions EMT #2 had about LifeLine's tuition reimbursement program for paramedic school".
In 2008 LifeLine ambulance launched in Chicago's South Side with just 5 ambulances and a team of 15 employees. From the outset there was a sense of family and with each new hire, that family grew. With the expansion to new locations and states, Life Ambulance Network formed with the goal to be the first employee-driven EMS company.
Today we're excited to announce the launch of our new "People" division dedicated to the development, progress and support of LAN employees. Leading the team is Kris MacGregor, (Director of Human Resources at LAN) and Ashley Marsh (Assistant Director of Human Resources at LAN). Both Kris and Ashley began their careers in the hospitality industry where they learned the value of empowering people so that they can perform their best work. Kris notes the similarity to EMS in that both industries operate 24/7. "Though in EMS," Ashley points out, "crews are out of the building for most of the day which requires more creativity and precision for engagement".
To be first means to lead and at Life Ambulance Network we welcome that opportunity!
– Shalom Bergovoy
 "Our mission, values and goals at LAN center on our employees" says Kris, "as LAN grows we want to identify and create areas that we can improve upon by centralizing resources and initiative". Ashley mentions relationships and interactions as her favorite part of the job, "I love helping others and am fortunate to be in the unique position where I can listen and support people."
When asked about goals for the department, the pair fires-off a list of projects both completed and still in the works: Promotions, payroll, benefits, perks (gym discounts, restaurants, massage memberships etc.), pay advance apps and employee celebration events. Management training, to help bolster positive engagement in daily interactions with employees. Formulating personal improvement plans for employees, implementing a leadership program and providing the coaching and resources necessary to excel. Lastly, they describe making the most out of the guaranteed interactions such as enhanced orientation, and the standardization of policies and communication.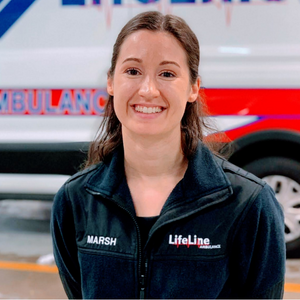 "When I joined LifeLine Michigan two and a half years ago," says Kris, "there were 80 employees, and we're now at 140. Majority of these new hires have been from referrals, current employees, past employees, even friends and family. That's the greatest feeling, knowing that we've built a culture that is comfortable, friendly, supportive and people want to share that, to invite others into the family!"
"Our people are our greatest investment" says Shalom "We want LAN to be the destination of envy in the EMS world while serving as the ultimate springboard for a bright career. To be first means to lead and at Life Ambulance Network we welcome that opportunity!"
Read Next: Growing Forward, Meet Our New CFO!